The CE mark, or formerly EC mark, is a mandatory conformity marking for certain products sold within the European Economic Area (EEA) since 1985.[1] The CE marking is also found on products sold outside the EEA that are manufactured in, or designed to be sold in, the EEA. This makes the CE marking recognizable worldwide even to people who are not familiar with the European Economic Area. It is in that sense similar to the FCC Declaration of Conformity used on certain electronic devices sold in the United States.
RINA - certification since 1860
RINA SERVICES S.p.A. is the operational arm of RINA​, developing and offering services of ships classification, certification, verification of conformity, inspection and testing.

We provide our experience and commitment for strategic support to public and private organizations, operating in the most diverse markets and which seek to reach the highest levels of quality, efficiency, safety and sustainability, thus contributing to the global enhancement of the quality of life. In guaranteeing our certifications and evaluations, we have acquired a vast range of recognitions, issued by international, European and national Accreditation societies. Read more ...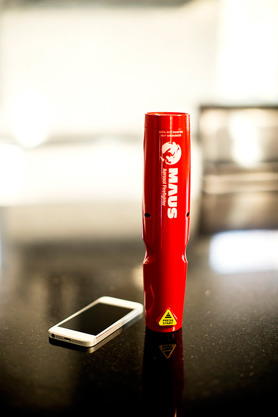 9,5 in TALL AND WEIGHS only 16,9 oz
And 2,08 inches in diameter. Is it the worlds smalles fire extinguisher? We say that it's the strenght and the power in the small MAUS Xtin Klein that is the most important thing. You don't need to go running and try to find out in which closet you put your fire extinguisher in cos you will be able to have a MAUS Xtin Klein always within an arms length. MAUS Xtin Klein is a non pressurised fire extinguisher that you don't have to check for 5 years. We leave a warranty for 5 years from the prodction date. No more thoughts about if your fire extinguisher will perform or not - MAUS always works. Within 15 seconds a fire will double in it's size. Can you afford not to have a MAUS Xtin Klein close to you? In the kitchen, in your glove compartment, in your boat, at work or by the grill. Remember to always use a MAUS FIRST!
Swedish Civil Contingencies Agency
The MSB is responsible for issues concerning civil protection, public safety, emergency management and civil defence as long as no other authority has responsibility. Responsibility refers to measures taken before, during and after an emergency or crisis. The Swedish Government steers the MSB via a body of instructions and an annual appropriation. The instructions specify the MSB's responsibilities and tasks. The appropriation specifies the objectives and reporting requirements, as well as the resources allocated for MSB administration and MSB activities. MAUS Xtin Klein has been viewed and approved to be sold in the Swedidh market. It is not labeled as dangerous goods and will not do any harm to any human beeing.
When the russian cosmonauts where in need of a fire protection system that would work in space but not produce any residue - they invented the technology that is the tecnology behind MAUS Xtin Klein. Conventional fire extinguishesr causes residues from powder and foam, but MAUS Xtin Klein extinguishes fire with harmless, potassium based smoke. No residue - only aerospace technology.
The warranty will last for 60 months from production date. DOM (Date Of Manufacturing) is the production date written in month/year. The expire date is written EXP in month/year. See the image on the left side. If the time of the warranty has expired within a year (total of maximum 6 years) then you should activate the unit outside. If you have any questions regarding recycle and expiration date please email us at: recycle@mausxtin.com with your EXP date and we will help you.
According to local authorities you should recycle the MAUS Xtin Klein (when it has been exhausted) as you would recycle a spray can. Even though the MAUS Xtin Klein is not pressurized this is the reccommendation we have gotten.
First of all it is very important that you understand that the "smoke" will not take away the oxygen. This is not a technology that will take away all the air in a room. To explain it in an easy way you could say that the smoke covers all the particles that are burning so they can't burn anymore. If you want to learn a lot more about PGA and Aerosol please see this document.